Snowboard group lessons at the Swiss Ski School of Champoussin are divided into groups of 5 to 12 people and are open to children from 4 years old and adults, regardless of their snowboarding level (beginner, intermediate and advanced).
The instructors make up the groups so that people of the same level find themselves together. In this way, the progress of the students will be facilitated and the instructor will be able to make his or her choice of activities and slopes (blue: easy, red: intermediate, black: difficult) more easily throughout the day.
The participation of

5 people of the same level is necessary for a group lesson

to take place.

Semi-collective lessons

can be organized if this condition is not met (for a personalized follow-up, 

private snowboard lessons

 are organized).

Lessons last the whole week and in order to take advantage of them, beginners must absolutely be present from the first lesson on Sunday.
Lessons adapted to children from 4 years old.
Courses for adults (beginner, intermediate or advanced level).
A specific program for each level guides the students in their progression.
Group lessons start on Sundays and end on Fridays.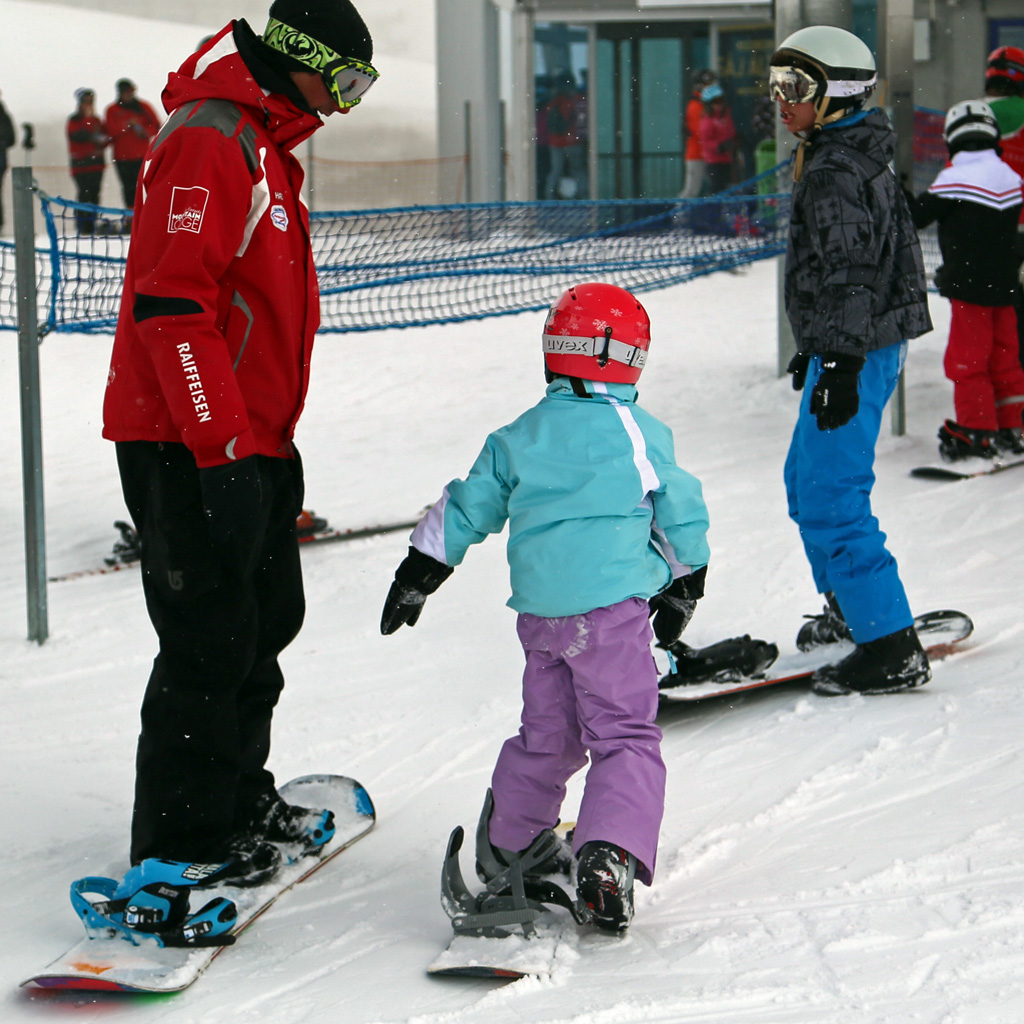 Level : Begginer to Snowli (not acquired)
Sunday : 1.30 p.m – 3.30 p.m.
Monday to Friday : 1.15 p.m – 3.15 p.m.
Total week ( 6 x 1/2 days ) : 12 hours

Level : Snowli (acquired) to Black Star
Sunday : 1.30 p.m – 4.00 p.m.
Monday to Friday : 1.15 p.m – 4.15 p.m.
Total week ( 6 x 1/2 days ) : 17 hours 30 minutes
Sunday : beginning of class: assessment of each participant's level to form homogeneous groups.
Friday : end of class: delivery of Swiss Snowsports notebooks and medals at 12.00 p.m.
Class' reservation required. The lessons take place regardless of the weather as long as the ski lifts are open.
Are you interested in group lessons?
Outside the high season, please contact the Swiss Ski School of Champoussin by mail or by phone +41 24 477 29 00 (in winter).
Contact us
| Price are given in Swiss francs | |
| --- | --- |
| | |
| | |
The prices indicated do not include equipment, ski pass or insurance.
EQUIPMENT:
waterproof suit and gloves
specific equipment (shoes, snowboard, helmet)
sunglasses suitable for snow
sunscreen
class tickets
contact details for parents/custodians
Helmet is mandatory for children.
Each participant MUST have their course tickets with them.
SKI LIFT PASS:
For beginners, please ask our office for advice.
For families, we recommend the "Portes du Soleil families" packages.
To be able to get a ski pass, please visit the official Portes du Soleil website
WEATHER/REFUND:
Our lessons take place in all weather. Please consult our general conditions in the event of cancellation or closure of the ski area.
INSURANCE:
Every person taking the SSS courses must have accident insurance valid in Switzerland.
DISCOVER OUR OTHER GROUP COURSES IN CHAMPOUSSIN
The Swiss Ski School of Champoussin also offers group lessons in the following discipline:
Each lesson is given by an experienced instructor in the chosen board sport.
The SSS of Champoussin welcomes adults and children of all levels in order to help them discover the joys of snow and winter sports in the Portes du Soleil ski area in the Swiss and French Alps.