Private freestyle lessons
Private freestyle lessons (ski or snowboard) at the Swiss Ski School Les Crosets allow you to learn various trick techniques (fakie, ollie, nose ollie, grab, 360°, single jump, slide, switch ski, etc.) and for the more experienced, to perfect your tricks.
Our specialized instructors, true freestylers at heart, teach children and adults how to master the snow, moguls and air to achieve and improve your level. Let yourself go and imagine your next jumps 🙂
You must have a good level of skiing or snowboarding to get into this acrobatic and spectacular sport.
Contact the SSS for more information and book your private freestyle lesson.
Priority access on the Portes du Soleil ski lifts
Video recording and correction on demand (several private lessons are required to be able to measure progress more easily)
The practice of freestyle can also be done in freeride (skiing or snowboarding).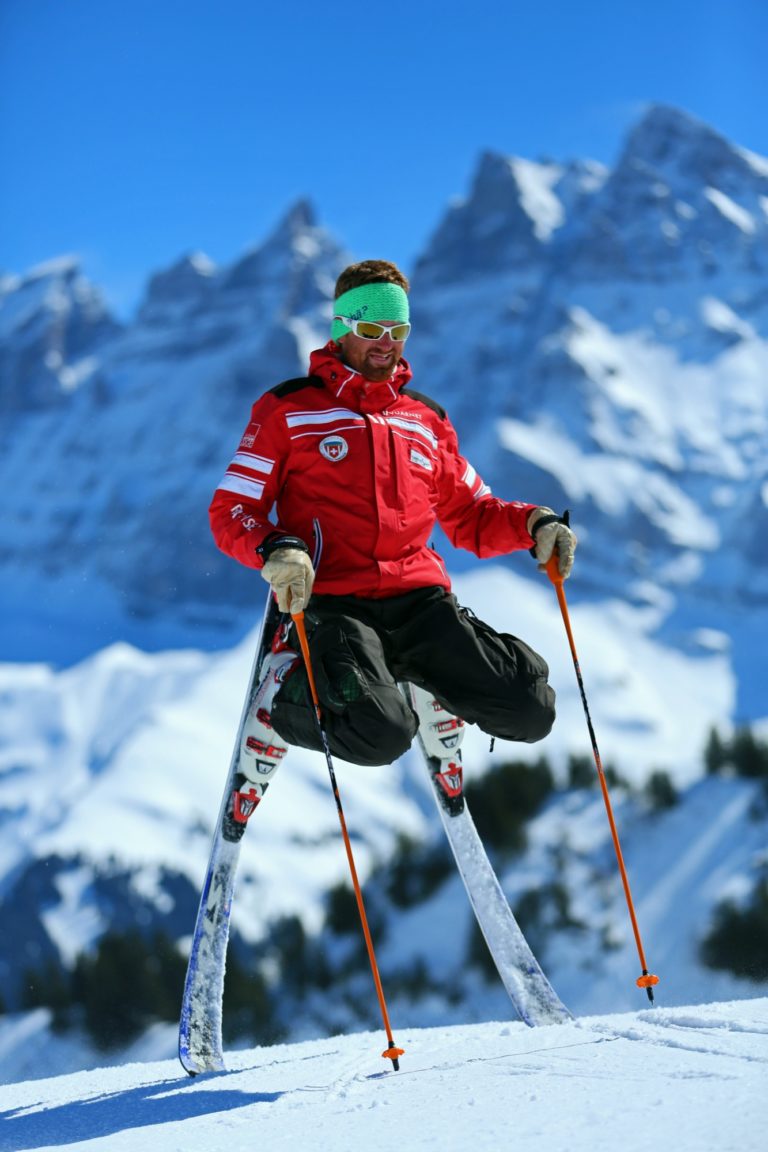 You can book a lesson from Monday to Sunday 9:00 am to 4:30 pm by 1 hour 45 minutes time slots minimum. The lessons take place as long as the ski lifts are open, regardless of the weather.
Book a lesson
Full credit card details (Visa or Mastercard) will be requested by phone or by email.
Contact us
Prices in CHF

1H 45Min
Mornings (Low season)
Mornings (High season)

3H 30Min
Mornings (Low season)
Mornings (High season)

FULL DAY (6 hours)
High season
The prices indicated do not include equipment, ski pass or insurance.
When taking private lessons you benefit from Portes du Soleil ski lifts' priorities. Possibility of filming the course (with video correction) if notice is given in due time.
SKI LIFT PASS:
For beginners, please ask our office for advice.
For families, we recommend the "Portes du Soleil families" packages.
To be able to get a ski pass, please visit the official Portes du Soleil website.
WEATHER/REFUND:
Our lessons take place in all weather. Please consult our general conditions in the event of cancellation or closure of the ski area.
INSURANCE:
Every person taking the SSS courses must have accident insurance valid in Switzerland.
THE DIFFERENT DISCIPLINES OF FREESTYLE
Freestyle skiing or snowboarding includes several disciplines.
The slopestyle
Ski slopestyle is practiced by performing ski jumps from snow mounds or metal structures. Once in the air, the skier performs tricks by grabbing his skis in different ways (grab), then choosing to put them back (fall back on his skis) forward (fakie) or backward (switch).
The jump is judged on criteria such as performance, aesthetics and showmanship.
Mogul skiing
Mogul skiing is a freestyle ski discipline consisting of a track with moguls and two jumps from which the skier performs freestyle jumps.
There is a version of parallel mogul skiing in which two skiers compete in a duel on a mogul track.
The race is judged on speed, execution technique and the two freestyle jumps.
Half-pipe
A half-pipe is a U-shaped snow structure whose walls are made up of two long vertical walls 5 to 7 meters high. It is used for both skiing and snowboarding.
Freestyle jumping
The acrobatic jump consists of jumping down a slope to a springboard and performing a jump with a combination of tricks (rotations, spins, etc).
Skicross
Skicross is a spectacular freestyle discipline. Skiers take off, four by four, on a 600-meter course with a 33% incline for a race with moguls, steep curves and jumps. The first two in each run qualify for the next round. Races continue until there are only four left (not one
).
The big air
The big air is a springboard made of snow and used for freestyle skiing or snowboarding to perform aerial tricks.
Backcountry freestyle
Backcountry freestyle (or backcountry skiing) is the off-piste (freeride) version of freestyle. It uses the natural obstacles of the terrain to perform acrobatic tricks.
THE FREESTYLER'S EQUIPMENT
The basic equipment consists of a pair of skis with twin-tips raised at the front and back. Lighter, more flexible and shorter than standard skis, they are easier to grab and handle in the air. The helmet, eye mask (sunglasses are too fragile and could injure the skier in case of an accident) and back protection complete this equipment.
DISCOVER OUR OTHER PRIVATE COURSES IN CROSETS
The Swiss Ski School Les Crosets offers you a wide range of private lessons in the following disciplines:
Each lesson is given by an experienced instructor in the chosen board sport.
The SSS Les Crosets and its instructors offer you an unforgettable experience in the Portes du Soleil ski area straddling the Swiss and French Alps.